Sage 50 Peachtree Accounting software 2019 Import & Export Quotation
To make it easy for customers to enter data quickly, the Sage 50 Peachtree has an import function that allows customers to import data directly from the Excel file into the Sage 50 Peachtree company. You can import accounts, goods, journals, customer payments, collections, expenses, bills, sales, purchases, etc.
We can migrate data created from Sage 50 Greater China, Daceasy, QuickBooks and other accounting software as well as any data in Excel format to Sage 50 Peachtree

For details, please call the hotline at 2393 3819.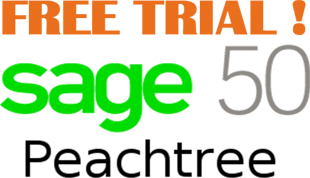 Sage 50 Peachtree® Accounting Software 2019
::Suggest system requirement for Sage 50 Peachtree 2019
※ at least 2.4 GHz processor ;
※ at least 2 GB memory , suggest 4GB or above
※ at least 3 GB harddisk for installation
:System requirement for Sage 50 Peachtree 2019
※Windows® 7 SP1 or 8.1 & Windows® 10 (Anniversary Update and higher - version 2019.1 compatible with Windows 10 v1803) with the latest updates from Microsoft installed
※Windows® Server 2008 R2 SP1or Windows® Server 2012 or Windows® Server 2016, Windows 7 or 8.1 or Windows 10 peer-to-peer networks (NAS is not supported)
※Microsoft®.NET Framework 4.7.1, including DirectX Dependency for .NET; requires an additional 280 MB to 850 MB
※Excel®, Outlook®, and Word integration requires Microsoft Excel, Outlook, and Word 2007, 2010, 2013 or 2016 (32-bit versions)
※Office 365 Integration – Requires Office 365 Business Premium or Enterprise Editions
::::: Detailed system requirement for Sage 50 Peachtree 2019 Accounting Software